Presenting Humanity to Humanity
Helene Tremblay, initiated the ambitious journey of presenting Humanity to Humanity, an adventure unfolding over 3 decades. In each of the 111 countries travelled she has lived with a family representative of the living conditions of the majority. From sunrise to sunset, hour by hour, she has shared the small events that shape daily lives globally.
"…it's easy to get hooked."
"Families of the World has been years in the making. It shows what one person can do if she has the will. Helene Tremblay has the will, and she has certainly found the way."
"Like an ethnographer, though far more fleetingly, Tremblay was privileged to view these lives from inside, and as a result Familes of the World is rich in details any novelist would envy."
"This outstanding collection helps us to understand the joys and hardships families experience in raising the global citizens of tomorrow… Essentially, it helps us care."

»
Explore
Our intention: Provide you with Helene Tremblay's entire unique comparative research in over 137 families in 111 countries. Get a peek into the life of families in each country visited. This is a beginning soon you will clic on every page. Discover the first six countries and see what is coming! Exciting!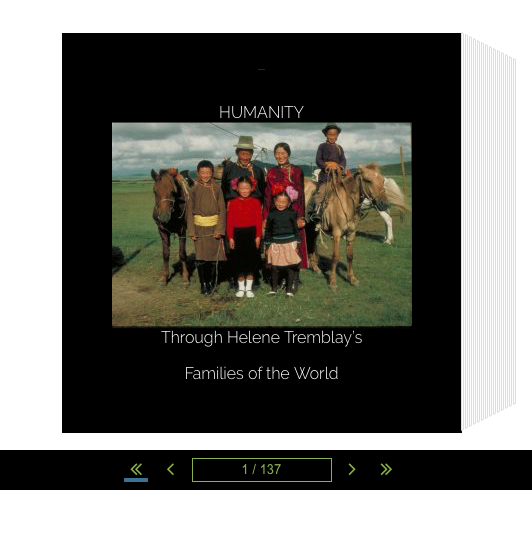 Let's Meet on the Earth is developping an interactive book-website on the humain experience.
It's an adventure, it's awakening, it's human