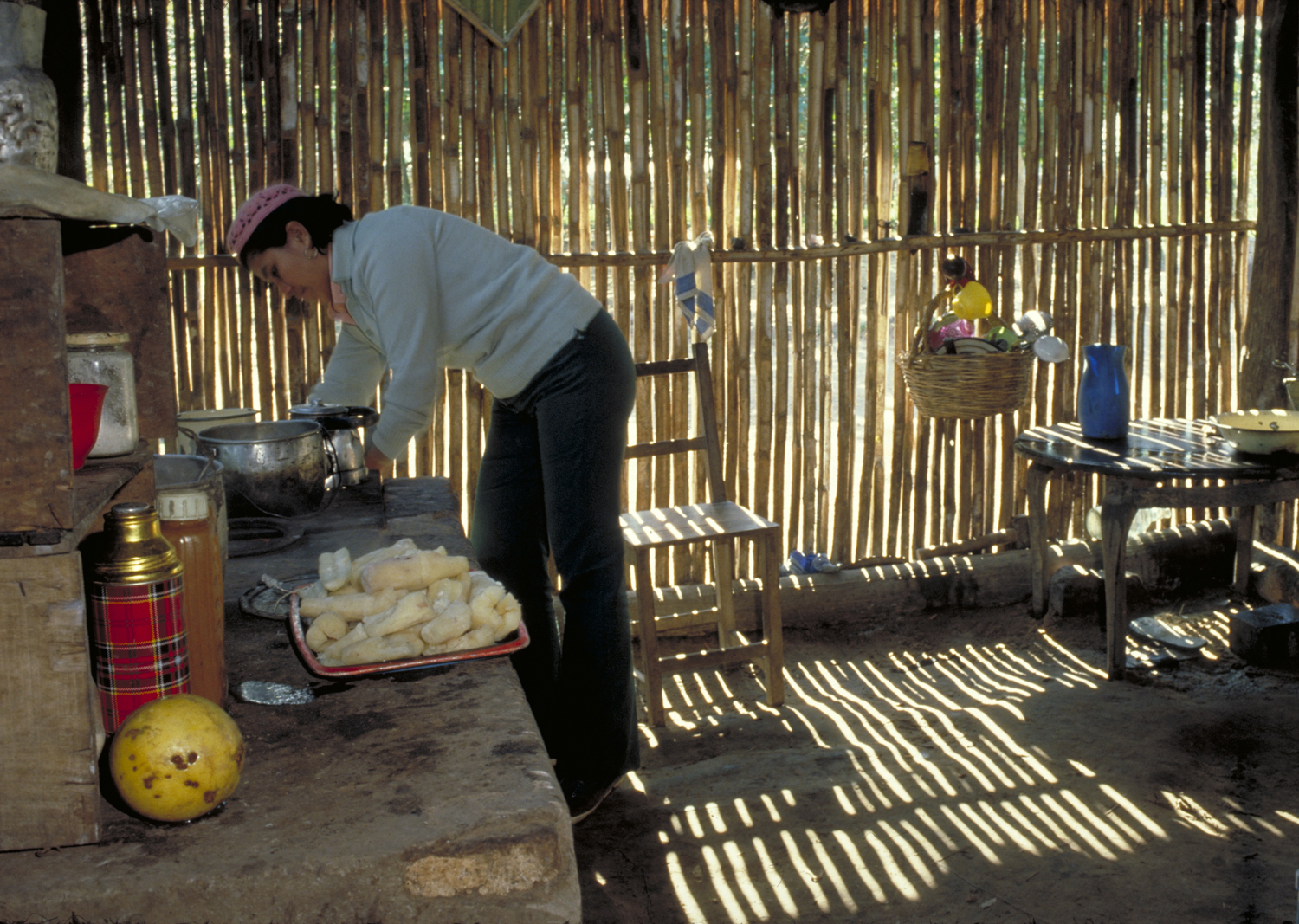 " In Paraguay, Catalina was one of the first people who taught me to look differently at the world and to question poverty vs misery and to search for beauty."
I learned to do photography a few months before my departure and was nervous every time I took a shot. I would take many to make sure I had a good one. I would send slides to be developed in a lab in Paris and I knew it would be a year before I saw my work. I was happy with my picture of the cane wall that let in such beautiful light. I knew this picture would be good. While I was getting ready, Catalina started telling me the story of her kitchen.
Every morning Catalina prepared meals for the children when they came home from school. I told her, "Don't worry about me. While you're getting the meal ready, I shall take pictures of the kitchen "so that she could concentrate on her work.
With a credit the ministry of agriculture had given one hundred families, she had been able to buy her stove the year before. She had to go to the village and take cooking classes to learn how to use four pots and an oven all at once. Before, she had only had a hole in the ground and a fire.
"Now that I have a stove, I'd like to renovate (finish) my kitchen," she told me. "I want to replace these three walls of old planks of wood with brick walls. I'd like to finish the floor with nice tiles but first I need a chicken coop to get the hens out of the kitchen. For now it's the only place they can be quiet to lay their eggs." Then she looked at the cane wall as the rays of the sun softly came through and she said: "But this wall I want to keep like this, because I really like the light that comes through it."
Many people turn the pages of the Families of the World book and look at the people saying: "These ones are poor, these ones are rich," as if that was the only way to look at the world. That cane wall was not a poor person's wall.

It was simply a beautiful wall of light; a wall that belonged to Catalina, who loves the light just as you and I do. It was the wall of a woman with the heart of an artist who likes to have beauty in her life.
It's an adventure, it's awakening, it's human